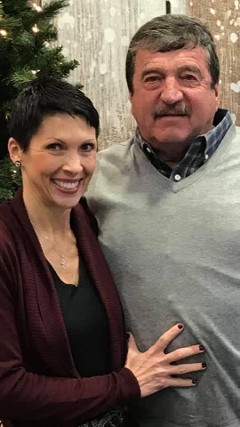 Ron and Leigh Anne Florence met in 1999, married in 2000 and began The Woody Series in 2003. Ron, a Nelson County native, graduated from My Old KY Home High School where he was a star athlete in track, basketball and football, where, as quarterback, he lead the team to play in the state championship. Upon graduating from Western Kentucky University with a degree in Industrial Arts, he moved to Bullitt County and taught Industrial Arts and coached football at Bullitt Central High School. After a few years, he took his skills elsewhere and started a construction company and worked in the real estate industry. He was in the corporate arena with Century 21 for over 13 years and then as broker/owner of Ron Florence REALTORS. As bus driver, computer operator, dog walker, book order filler, and go-for-this kept him busy, he decided he needed to concentrate his efforts on The Woody Series. Ron loves sports, UK Wildcats, animals and woodworking.
Leigh Anne is a native of Murray, Kentucky - Kirksey to be exact. A graduate of Calloway County High, Leigh Anne went to Murray State University where she received a Bachelor of Music Education and Master of Music Education - emphasis in classical piano - with a K-12 certification. Leigh Anne has 6 years experience teaching - ranging from Kindergarten to College - public schools and private schools. It was while teaching music she began telling her students stories of her wiener dogs, Woody and Chloe. After landing a publishing contract, she resigned from her teaching job so she, along with Ron, Chloe and Woody, could take the show on the road. Leigh Anne, a Kentucky Colonel, loves playing piano. She plays at church and a variety of events. She recorded a CD titled Rememberance - a collection of hymns she arranged and performed. In addition to playing piano, Leigh Anne loves reading, meeting people, and animals. Most of all, Leigh Anne loves Ron, Woody, Chloe and all the critters that make up their home.
In addition to presenting programs in schools and libraries, Leigh Anne is busy with many projects. She is a sought-out speaker with women's groups, church events, and community organizations - engaging audiences of all ages. She is available to provide music for your next event. In addition, she stays occupied editing manuscripts and projects for others - everything from college scholarship applications to published books. Contact Leigh Anne for more information.